Staib Financial Planning, LLC is a proud member of the following organizations, and adheres to their standards of professional excellence and integrity:
Certified Financial Planner (CFP®)
The Certified Financial Planner (CFP®) designation is a certification mark for financial planners conferred by the Certified Financial Planner Board of Standards.  To receive authorization to use the designation, candidates must meet stringent education, examination, experience and ethics requirements.
As an authorized, practicing Certified Financial Planner (CFP®), Paul Staib has voluntarily met all of the rigorous initial and ongoing competency requirements.
Fee Only
As a Fee-Only advisory firm, Staib Financial Planning's recommendations are uncompromised by any type of fee received by the vendors of financial products, including investment funds, insurance companies, and estate attorneys. Fee-Only advisors provide consumers and institutions with comprehensive and objective financial advice on a "Fee-Only" basis, keeping only the best interests of the client in mind – with neither the advisor nor any related party receiving compensation contingent on the purchase or sale of a financial product.

National Association of Personal Financial Advisors (NAPFA)
Paul Staib, (CFP®)  is a Registered Member of the National Association of Personal Financial Advisors (NAPFA).  NAPFA is the nation's leading organization of Fee-Only comprehensive financial planning professionals.  As a NAPFA member, Mr. Staib adheres to and has embraced the following core values with Staib Financial Planning:
Competency: Requiring the highest standards of proficiency in the industry.
Comprehensive: Practicing a holistic approach to financial planning.
Compensation: Using a Fee-Only model that facilitates objective advice.
Client-centered: Committing to a fiduciary relationship that ensures the client's interest is always first.
Complete Disclosure: Providing an explanation of fees and potential conflicts of interest.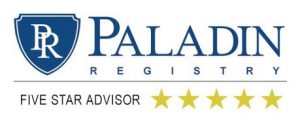 Paladin Registry of Advisors 5-Star Rating
Staib Financial Planning, LLC is proud to have been awarded a 5-star advisor rating with the Paladin Registry of Advisors, an independent and objective rating service of independent advisors. They use an extensive rating process and specific criteria to evaluate advisors. Fewer than 10% of Paladin rated advisors are 5-star. For additional details on the 5-star rating process click here.
Financial Planning Association
The Financial Planning Association® (FPA®) is a leadership and advocacy organization connecting those who provide, support and benefit from professional financial planning. Based in Denver, Colo., FPA has more than 100 chapters throughout the United States representing more than 28,500 members involved in all facets of providing financial planning services. Working in alliance with academic leaders, legislative and regulatory bodies, financial services firms and consumer interest organizations, FPA is the premier resource for the public to find a financial planner who will deliver advice using an ethical, objective, client-centered process.