Financial Advice…on an Index Card
Aug 3, 2015 • Written by Paul Staib | Certified Financial Planner (CFP®), MBA, RICP®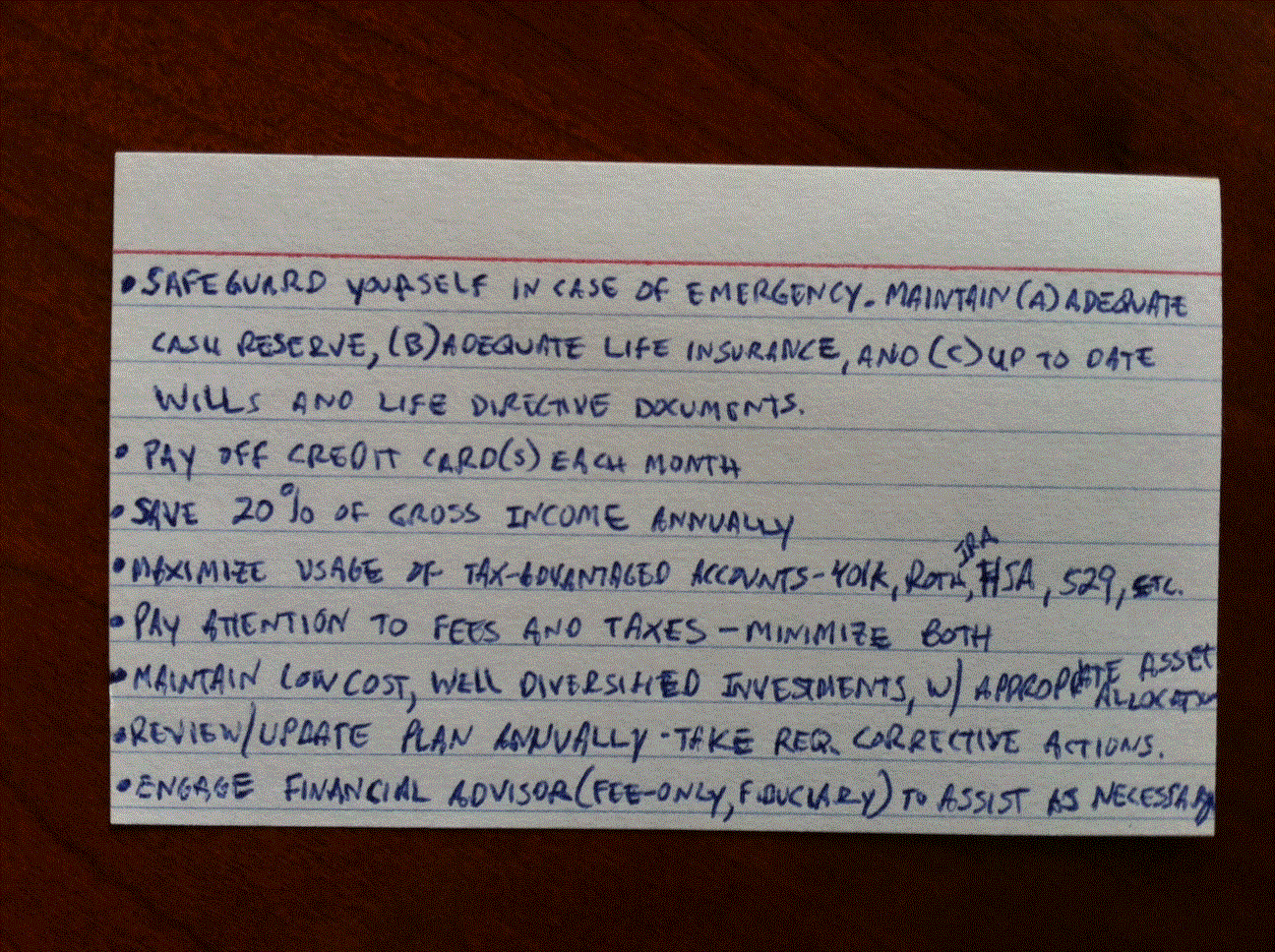 Harold Pollack, a professor of public policy at the University of Chicago, generated a good deal of buzz a few years ago by scratching out "all the financial advice you'll ever need" on a 4×6 index card.
Now you may disagree with a few of Pollack's items (such as his guidance to avoid picking individual stocks and to skip actively managed funds), but it's hard to disagree with Pollack's overarching goal of helping investors cut through the clutter and focus on what really matters. From a 3,000 foot conceptual level, financial planning doesn't have to be complicated. Instead of getting bogged down in complicated and often expensive products and strategies, the majority of folks will have a better shot at reaching their financial goals if they tune out the noise and focus on basics like saving enough and taking advantage of tax-sheltered investment accounts.
While an "index card" financial plan is no substitute for a comprehensive financial plan, the exercise to distill your own "plan" into just a few easy-to-understand sentences (or at least get them onto a single note card) can serve several important goals. It can be a great starting point for developing a more detailed financial plan and it can provide guidance and help ensure that your plan isn't too complicated and doesn't require too much maintenance on an ongoing basis.
The Challenge
Even if you don't have any note cards handy, you can still take up the challenge of distilling your overall financial plan/strategy into just a few sentences or bullet points. Spending less than 15 minutes on the effort, here's my revisions to Pollack's original (on a 3×5 index card, no less).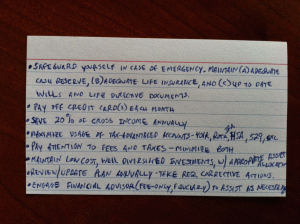 In case you can't read the text on the index card above, it reads as follows:
Cover yourself (and your loved ones) in case of emergency. Maintain (a) adequate cash reserve for emergency purposes, (b) adequate life insurance coverage (using level, term life insurance), and (c) wills and life directive documents.
Pay off credit card(s) each month and avoid consumer debt.
Save 20% of your gross income annually.
Maximize usage of tax-advantaged savings accounts such as 401k, Roth IRA, HSA, and 529 accounts.
Pay attention to fees and taxes – minimizing your costs and tax liability.
Maintain a low cost, well diversified investment portfolio with an appropriate asset allocation.
Review and update your plan annually – take any required corrective actions.
Engage a trusted financial advisor (fee-only, fiduciary) to assist you as necessary/required
Paul Staib | Certified Financial Planner (CFP®), MBA, RICP®
Paul Staib, Certified Financial Planner (CFP®), RICP®, is an independent Fee-Only financial planner. Staib Financial Planning, LLC provides comprehensive financial planning, retirement planning, and investment management services to help clients in all financial situations achieve their personal financial goals. Staib Financial Planning, LLC serves clients as a fiduciary and never earns a commission of any kind. Our offices are located in the south Denver metro area, enabling us to conveniently serve clients in Highlands Ranch, Littleton, Lone Tree, Aurora, Parker, Denver Tech Center, Centennial, Castle Pines and surrounding communities. We also offer our services virtually.
Paul Staib | Certified Financial Planner (CFP®), MBA, RICP®
• Written By
Here are five core principles every investor should keep in mind: 1. DIVERSIFICATION: Diversification is how you limit the risk…
Paul Staib | Certified Financial Planner (CFP®), MBA, RICP®
• Written By
The SECURE Act, a law that took effect on January 1, 2020, made significant changes to retirement savings law (the acronym stands…