The Smartest Ways to Use Your Stimulus Check
Apr 19, 2020 • Written by Paul Staib | Certified Financial Planner (CFP®), MBA, RICP®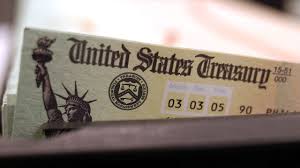 As you've probably heard, the U.S. government is in the process of putting some extra cash in American taxpayers' pockets.
To provide much-needed relief in the midst of the coronavirus pandemic, lawmakers approved a multi-trillion-dollar CORONAVIRUS AID, RELIEF, AND ECONOMIC SECURITY (CARES) stimulus package that includes checks of up to $1,200 per individual. The treasury began dispersing stimulus checks last week, mostly via direct deposit, to help make up for the economic insecurity that the pandemic has caused.
What you do with it will be up to you, though. Once you've taken care of necessities like food and medicine, these are the best ways to use your relief check.
Save it
If the money is needed to pay immediate necessities like food, utilities, rent, etc., then that should be priority number one. The second priority should be to add it to your emergency fund in case this pandemic lasts longer than anticipated.
A good rule of thumb is to keep three to six months' worth of savings for emergencies – a sort of safety net for a hypothetical rainy day. But in the days of COVID-19, that emergency has arrived for many families. Even Americans who have the resources to pay their bills right now would do well to keep their rainy-day fund filled with at least six months' worth of savings, especially if their income has any chance of changing.
If you aren't sure about your job security, you may want to keep that money on hand if you unexpectedly get laid off, especially if you're a one-income household.
In addition to the stimulus checks, here are other sources of emergency cash to consider.
Pay off bad debt
Once your emergency fund is firmly established, the next alternative would be to take care of debt with a high interest rate, if possible.
High-interest debt compounds quickly and can threaten your financial stability. Consider putting the cash toward paying down your debt and putting yourself on a more stable path.
That means paying off credit cards and other consumer loans whose high interest rate compounds. There's one caveat to this advice, however: if you've lost your job, first try to negotiate a lower interest rate from your creditors before paying off your original, high rate. Credit card companies are working with borrowers affected by the coronavirus pandemic.
Other types of debt fall lower on the list of priorities.
Pay off good debt
Now you can look to your remaining debt balance, or "good debt," which includes things like student loans and mortgages.
Assuming the recipient has an adequate emergency fund, I would use the proceeds to pay down any consumer debt or student loans. If you have funds leftover, it would be worth reducing or removing your lower-interest debt, in case things take a turn for the worse.
Being debt free in a recession is a significant advantage.
Local spending
Say your bills are paid off and you're feeling confident in your savings. There are ways to spend your money that can make a difference – and no, impulse buying on Amazon does not count.
You may wish to consider spending some of that money locally to support businesses that are hurting from the coronavirus impact. That injection of funds in the economy can really make a difference. Your $50 at a local restaurant might not seem like a big deal, but it can make a big difference if more people opt-in.
But that doesn't mean using the stimulus check on a shopping spree. It's important to be thoughtful with this money.
Paul Staib | Certified Financial Planner (CFP®), MBA, RICP®
Paul Staib, Certified Financial Planner (CFP®), RICP®, is an independent Flat Fee-Only financial planner. Staib Financial Planning, LLC provides comprehensive financial planning, retirement planning, and investment management services to help clients in all financial situations achieve their personal financial goals. Staib Financial Planning, LLC serves clients as a fiduciary and never earns a commission of any kind. Our offices are located in the south Denver metro area, enabling us to conveniently serve clients in Highlands Ranch, Littleton, Lone Tree, Aurora, Parker, Denver Tech Center, Centennial, Castle Pines and surrounding communities. We also offer our services virtually.
Paul Staib | Certified Financial Planner (CFP®), MBA, RICP®
• Written By
A critical component in the development and implementation of a comprehensive retirement plan includes the assessment and mitigation of risks….
Paul Staib | Certified Financial Planner (CFP®), MBA, RICP®
• Written By
The first thing to know about 1099s is that there are several different subtypes: 1099-DIV, 1099-INT, 1099-R, 1099-MISC, and so…